Lekfulla och kreativa övningar skapade av bokstavsillustratör Sofie Björkgren-Näse / Fia Lotta Jansson Design.

Boken för dig som vill bli inspirerad att börja med lettering – eller fortsätta bli inspirerad om du redan hållit på med lettering en tid!
Blockbokstäver, Brush Lettering, dekorativa bokstavsformer, skelettbokstäver med mera. Detta är en arbetsbok som du ska rita och klottra i! Boken innehåller 105 sidor, med randigt, prickigt och blankt papper i Munken Polar från Arctic Paper, vilket är ett skönt och bra papper att rita på
Mjukpärm och öppen bindning – riktigt snygg när den ligger framme. Men låt den inte ligga för länge, den ska ju användas!
Lettering Workbook No 1 finns att köpas hos:
Pen Store, Stockholm (i butik och webshop)
Rum för Papper, Göteborg (i butik och webshop)
Jakobstads Bokhandel, Jakobstad
(i butik och beställning via mail jakobstads.bokhandel@multi.fi)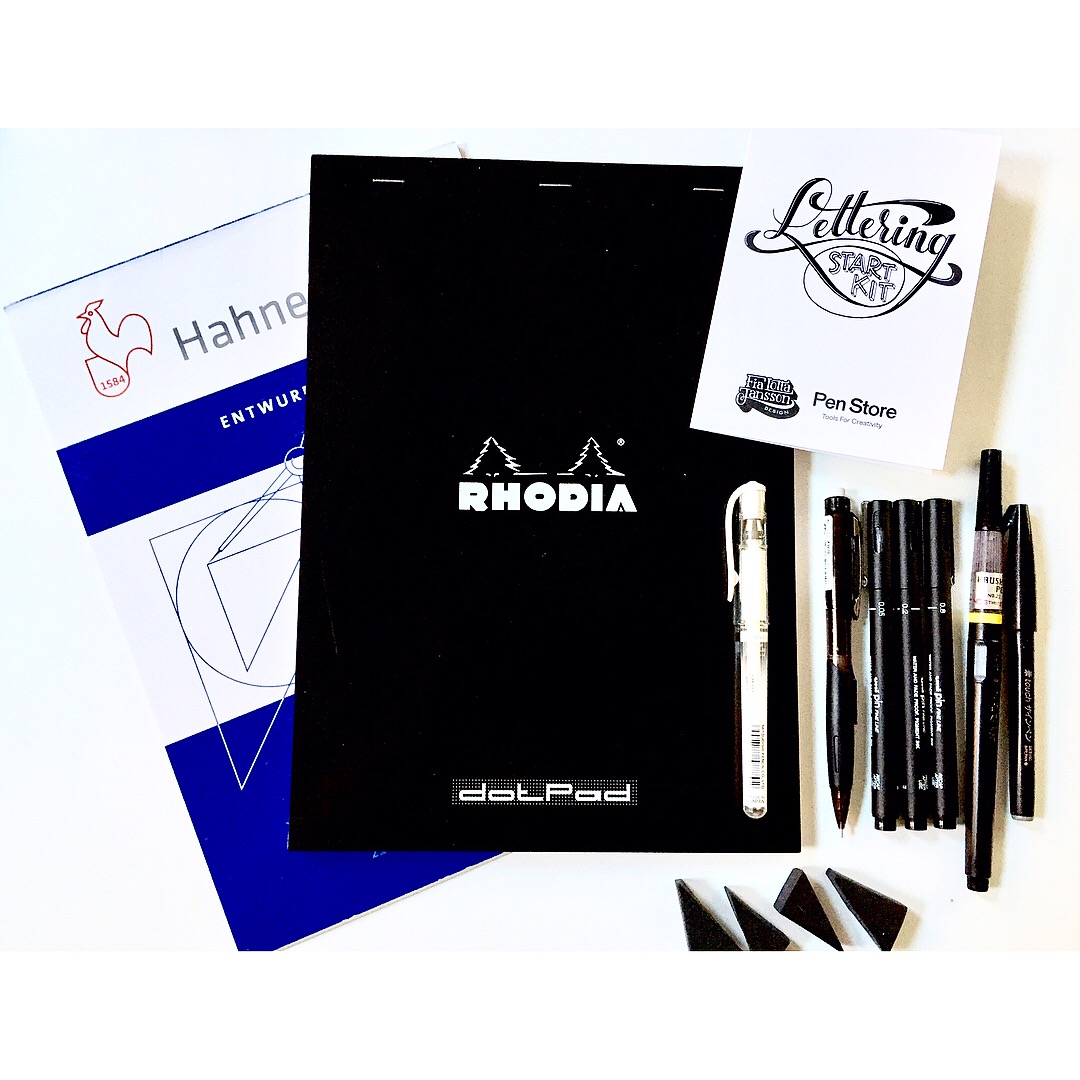 (sold out)
I am often asked what pens and paper I use when lettering. Together with Penstore I have put together a Lettering Start-Kit with the best tools and papers for you to use when you want to start with lettering or when you want to update your tool kit. Click on over to www.penstore.se (for delivery within Sweden), www.penstore.dk (Denmark) or www.penstore.com (international) to get more information or buy a kit for yourself or as a gift for a friend! Happy lettering!
Letteringkalender 2018 (former Typografikalender) is here! This year you can download it for free. Instead of paying me I hope you can donate to the Red Cross. I have my own collection called "Lettering till förmån för mänskor på flykt" [Lettering for refugees]. It is optional to donate, but if you do I very grateful for your help!
I wish you a peaceful Christmas holiday and a great start to the New Year!
Letteringkalender 2018 (tidigare Typografikalender) är här! Detta år är kalendern gratis att ladda ner. Istället för att betala mig hoppas jag du kan tänka dig att donera pengarna till Röda Korset. Jag har en egen insamling som heter "Lettering till förmån för människor på flykt", det är frivilligt att ge, men jag vore mycket tacksam för din hjälp!
Jag önskar dig en fridfull jul och en fin start på det nya året!
Lettering Workshop - tickets and e-courses

Want to buy tickets to a Lettering Workshop? Go to: LETTERING WORKSHOP!
Want to buy the online workshop on Brillbee? Click: Lettering - rita dekorativa bokstäver och ord

(If you would like a gift card for any of the workshops please contact me on sofie@fialottajansson.com and I will send you a downloadable PDF you can print at home!)

Fia Lotta Jansson Design - webshop
In the Fia Lotta Jansson Design webshop you can find different products like original handlettering, prints, postcards and other goodies.

Selected prints and postcards can be found in:
Minun\Min, store in Vaasa, Finland
Me and My House Store, webshop in Sweden shipping worldwide